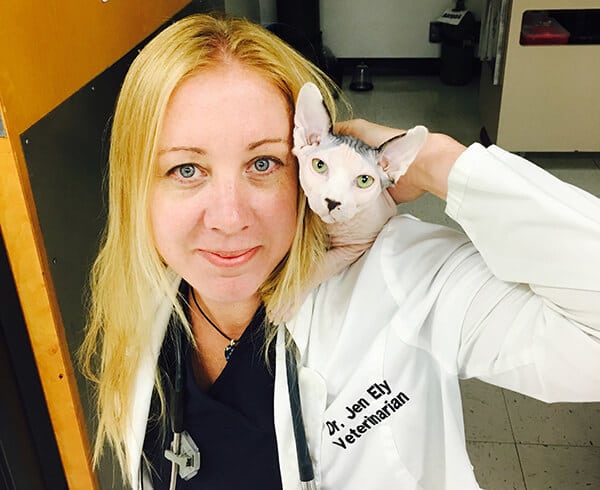 Jennifer Fast Ely, DVM
Veterinarian
Bio coming soon!
John Ely, DVM
Veterinarian
Dr. John Ely began his journey in veterinary medicine at the University of Notre Dame where he received his Bachelor of Science. He completed his Doctorate in Veterinary Medicine at Oklahoma State, graduating with Honors, including Phi Zeta, the Veterinary Medicine Scholastic Honorary Society.  He has practiced in numerous Veterinary Hospitals in the Treasure Coast for over 13 years.
Dr. John enjoys knowing that with proper care our fur babies can live long happy lives, hopefully avoiding unnecessary surgeries and illness.  This philosophy steered him to his specialties in both Internal Medicine and Dentistry.   Dr. John educates his clients on the importance of a healthy mouth because just like in people poor dentition can lead to other health problems.
Dr. John spends his time away from the clinic watching his favorite football teams the Broncos and of course, the Fighting Irish. He is a skilled musician and plays for his church.   Dr. John enjoys time relaxing, maybe catching one of his favorite movies like Nightmare on Elm Street 2 or Care Bears.   His sense of humor is easily reflected in his favorite quote, "I do not think that means what you think that means." These are actually a couple of phrases you may hear him say.
Dr. John Ely is our tough love with kindness type of Guardian that could eat tacos for the rest of his life and asks that you at least give him a beer before bad news!
Ally Howard, DVM
Veterinarian
Dr. Ally Howard grew up in the small town of Versailles, KY as an avid equestrian – started riding before she could walk. Received her bachelor of science in biology at the University of Kentucky in 3 years, then received her DVM (magna cum laude) from Auburn University College of Veterinary Medicine. She completed 2 internships after veterinary school, the first was an equine surgical internship in Lexington, KY the second was an ambulatory internship in Ocala, Florida. She fell in love with the ocean and moved to Stuart, Florida practicing as an ambulatory equine vet for an additional 4 years before moving to small animal medicine at Guardian.
She's always loved animals and knew she was going to be a veterinarian as soon as she could say the word. Her father is an equine veterinarian, so she grew up going to work with him instead of going to daycare. She was either on a horse farm, taking home farm kittens, or on her pony! She just loves "fixing" things, and knows that an animal feels better because she could help.
Professional interests include acupuncture, surgery, and preventative wellness care. She likes preventing problems and keeping animals healthy for as long as possible. She likes acupuncture because it provides an additional viewpoint on cases besides the traditional western medicine approach. Surgery is just fun.
Her father is also a veterinarian (has been practicing for over 36yrs). In her free time, she enjoys paddle boarding, baking, needlepoint, riding her horse, gardening, and snuggling with her 3 dogs, 5 chickens, and cat. Her horse doesn't fit on the couch.
Christine Morin
Veterinary Technician Supervisor
Christine moved to Florida 27 years ago. She has a strong passion for animals and has been a Vet Technician for 16 years. She has spent almost 2 decades in the profession and enjoys continuing to learn everyday.
Christine loves to offshore fish and spend time with her sons, husband and new Grand daughter.
Jeniffer Ortega
Veterinary Technician
Jeniffer was born in Ecuador. She and her family moved to Florida when she was young. She is currently studying at IRSC to earn a B.S. in biology. She grew up with several animals as a child and enjoyed coming home to a furry friend. She's always been a cat person despite the allergies and knew when she was young that she wanted to pursue a career involving animals. Her favorite thing about working with animals is learning about different illnesses and treatments for them. She loves connecting with people over our shared interests in animals.
She knew she was in the right profession when she came home feeling accomplished. It's easy for her to feel eager to work in this field. She has two cats named Edgar and Mystery. Besides snuggling her cats, she enjoys going to the gym and binge-watching her favorite shows.
Brandon Himelfarb
Veterinary Technician
Brandon was one of our Client Service Representatives that we found had a special talent working with our fur babies, so he is transitioning to the medical field! Brandon enjoys being able to take part in helping pets any way possible while he is here, often arriving early or staying late to help prepare and clean up. When he's not at Guardian, he enjoys playing saxophone or watching marching bands.  Brandon is also very active in his church community Brandon's favorite quote is, "I can do all things through Christ who strengthens me."
Kara Flynn
Veterinary Technician
Kara came to us with 3 years of experience as a Technician Assistant and an AS Degree. Her favorite things about working in veterinary medicine (in her words) are the "odd ball cases." Kara feels that she learns the most from the more rare cases that the doctors' treat. She enjoys learning new things so much that she has turned it into a hobby.   She does research and explores new places and things when the opportunity presents.  Kara also enjoys long boarding and watching movies like Deadpool and Scary Stories to Tell in the Dark.   She has a very easy name, but for some reason it doesn't stick so poor Kara has answered to "What's her face" more than once. We are not proud…
Alex Alzate
Technician Assistant & Client Services
Alex comes to us with 3 years of experience as a Technician Assistant and Client Services Representative. He often has us laughing with his witty remarks that he didn't think we would find as funny as we did. It makes sense then that he would title his autobiography "What Just Happened?" Alex enjoys relaxing at home with his family and animals when not working. You might find him with his Chihuahua, Betty, watching Toy Story or Snow White; or maybe catching up on new music from his hero Lady Gaga.  Alex believes that Lil Wayne said it best when he said, "Life is a beach and I'm just playing in the sand."
Nicholas Himelfarb
Technician Assistant
Nick is one of our smiling faces that you might see when visiting our facility. As a Technician Assistant Nick gets to spend most of his day watching over and taking care of everyone's fur babies. That is actually his favorite thing about his job. In his free time he enjoys fishing or maybe catching the Steelers play a little football. Nick is active with his high school ROTC program, so it's a good thing his favorite quote is "What doesn't kill you, makes you stronger!" Who knows maybe one day he is get the opportunity to visit Istanbul and check it off his bucket list.
Lisa Himelfarb
Practice Manager
As Guardian's Practice Manager, she is also a very accomplished Technician with over 9 years' experience in both general and specialty clinics, so she fills in as the need arises. If Lisa wrote her own job title, she would call herself the Advocator for pets and Educator for owners. Lisa is passionate about helping animals and it is reflected in her favorite quote, "I speak for those that have no voice." After work Lisa hits the baseball field, where she watches her kids play ball. With 4 handsome sons and a wonderful husband at home, her favorite holiday is Mother's Day. Her stature might be deceiving because if she came with a warning label it would read: Small but Fierce! Listen close and you might hear a Lisaism…
Brian Harfst
Business Manager
Brian has been in business management for more years than he chooses to admit and recently came on-board as Guardian's Business Manager.  Brian makes sure that the doors stay open and the lights are on. He spends most of his time locked away in the office; therefore his favorite thing is to be able to look out his window at all the cute pets. He also enjoys surfing, traveling and gaming when we unchain him from his computer. We asked Brian to name four people that he would like to have a drink with out of anyone living, dead, fictional etc. Brian chose Elon Musk, Robin Williams, Steven Spielberg and Leonardo DiVinci. Those known to be innovators, noodlers, and/or story tellers, we just hope Brian speaks Italian because we don't think DaVinci spoke English!
Jessique Gragg
Executive Assistant
Jessique, who is affectionately known as Jessi-q around the office, is our Executive Assistant. With more than 17 years' experience in the executive administration field, she has all the qualification to so what she most enjoys doing, which is organizing and helping everyone do their jobs more efficiently. Jessi-q has many hobbies which include: hiking, surfing, snorkeling, working out and knitting. She believes that "Happiness is not getting what you want; it's wanting what you have." Given the opportunity to be any animal in the entire world, Jessi-q would be a jellyfish. And if she came with a warning label it would read: WARNING a well-earned reputation for brutal honesty. This fierce, but fun loving and kind person is a valuable member of our team.
Katie Riemer
Client Service Supervisor / Technician Assistant
Katie has over 7 years of experience in Client Services and has continued her training to become a Technician Assistant.  She is like so many of us and enjoys her job most because she can help animals. Katie also feels that it is important to establish a special relationship with each pet she meets.  After work Katie enjoys catching one of her favorite movies like Pitch Perfect or Scarface.  Reference Bologna Barb and you can get quite the laugh from her.  Katie enjoys a variety of sports including fishing.   She also enjoys cooking as much as she enjoys eating.   Katie said that if she could be any animal it would be a Hippo because they like to eat, look cute but are ferocious!  Her warning label: Feed it or it will bite!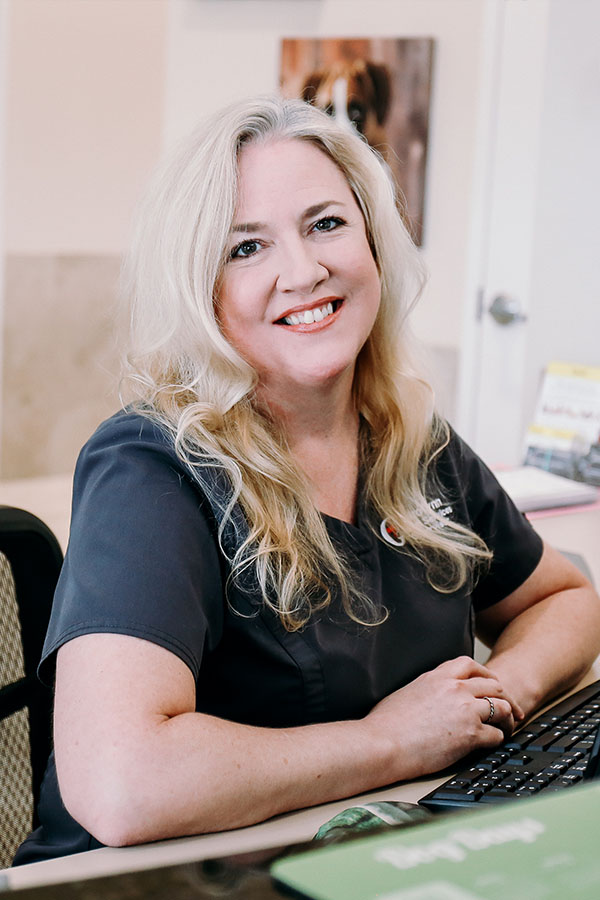 Carolynn Schuster
Client Services Representative
Carolyn has been working in Client Services for over 14 years, but she would describe herself as more of a telephone talk show host. Her bubbly personality can't be missed, even over the phone. She says that's because her warning label reads "MUST be CAFFINATED," we think it's just because her favorite thing about her job is helping animals get in for the care that they need. Carolyn enjoys hitting the pool in her free time or going for a bike ride. Our favorite hobby Carolyn listed was sleeping in, that is a hobby we can all get on board with. We also agree with that if she could be any animal she would be one of her past or present pets! What better way to know that you are going to have the good life!
Jazmin Lawrence
Client Service Representative 
Jaz is a bright smiling face that will greet your fur babies when they come for play dates or a little stay. She enjoys each day she gets to spend hanging out with the pets that come to visit us. She also enjoys all that she learns while working with and playing with pups and kitties. When Jaz gets home she enjoys playing the flute, listening to music and playing with her own pet bunnies. She says that she would one day like to travel to China. We hope that while she is there maybe she will see the one animal that she would be; the panda! Jazmin may be petite, but she says that her warning label would be, "Small but Sassy." We think she might be too sweet for that title.
Autumn Hunter
Professional Groomer
Autumn has been a Professional Groomer for over 11 years and has a love for all things fury. She is very popular with our Doodle owners who keep her very busy. Autumn loves the dogs that she grooms and feels that each and every one is family. She takes her time to care for each one as an individual. Autumn enjoys listening to audio books, spending time with her fur babies at home and baking. She has given the Guardian and Pet St Lucie team many tasty treats over the years and requests for more hasn't stopped (Oreo cupcakes are high on the list). Autumn also enjoys attending Comic Cons when she can sneak away from her clippers.
Amanda Winters
Professional Groomer
Bio coming soon!
Carmen Robinson
Pet Stylist
Carmen Robinson is a Pet Stylist here at PetStLucie Grooming, where she started working in January 2022. Originally from Harleysville, Pennsylvania, Carmen moved to Florida in 2010 from Cambridge, Maryland. With a high school degree and some college education, Carmen fell in love with grooming dogs as a side job and decided to pursue it as a career. Her favorite thing about working with animals is seeing the transformation of puppies from scruffy to cute, as well as helping nervous dogs become comfortable with grooming. Carmen knew she was in the right profession when she worked with a dog named Bella for a year, gaining the dog's trust and successfully grooming her without any biting incidents. Outside of work, Carmen enjoys hiking, traveling, reading, and spending time in nature. She has two dogs named Dexter and Lulu, a kitty named MoMo, and a god-daughter puppy named Pixie.
Christian Perez
Hotel & Daycare Attendant
Christian has volunteered at animals shelters in the area and completed courses from the Animal Behavior College before joining us here at Guardian and Pet St Lucie. He would describe himself as a Professional Pet Lover more than an Attendant. When not loving on and playing with everyone's fur babies, you might find Christian playing video games, reading, playing his flute or watching hockey. Just be careful, he says his warning label would read Extremely Clumsy but he could just be giving us a "Bazinga!"
Sherry Griffith
Client Services/ Daycare Attendant
Sherry came to Guardian when we first opened our doors as a long-time customer.  She stuck around, offered to give tours and before she knew it, she had a job. Sherry owned her own business for 15 years and at one time owned a farm. She describes her job here at the Activities Director and Referee, but what she enjoys most is the connections she makes with pets and owners. Sherry's business was computers and electronics and has remained a hobby that she enjoys. Her hero is none other than Mr. Steve Jobs. Sherry has worn many hats over the years and found that John Lennon gave her the words to live by when he said, "Life is what happens when you're busy making other plans".  Either that or her self-titled autobiography, Do the Voices Inside My Head Bother You?